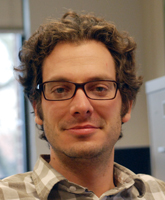 (photo credit Dale Austin)
I'm a displaced Ozarker (currently in Santa Cruz County, California) who enjoys hills and rivers, and associated things. I have a wonderful, extremely intelligent wife and a wonderful, not-so-intelligent dog, who share my enjoyment of hills and rivers.
I'm also pretty into science, and before that overwhelmed my life, I was pretty into fiction, playing fiddle and mandolin, riding bikes in ways that they're not supposed to be ridden, and other typical young male stuff.
I'm still obsessed with whitewater kayaking, and like to ride bikes in more point-A-to-point-B scenarios.
I also don't particularly know what more to say about my personal self, so I'll stop. Is it weird in the facebook era to find it strange to write about one's self to a public that made no request?